Customer Gallery
Description
The Protector S3 is our most technically advanced holster that we offer. It is handcrafted in the USA using Premium Water Buffalo leather and is available in left or right-handed orientations. The Protector S3 features include:
---
RAISED PROTECTIVE BACKING
A holster should protect not only the user from the sharp edges of the gun but also the weapon from sweat. Our raised leather backing acts as a comfortable shield that protects both user and gun.
---
EASY ON/OFF CLIPS
Say goodbye to having to unbuckle your belt every time you need to take your holster off. We have designed this holster for convenience so that when you need to take your gun/holster off it can be done within seconds.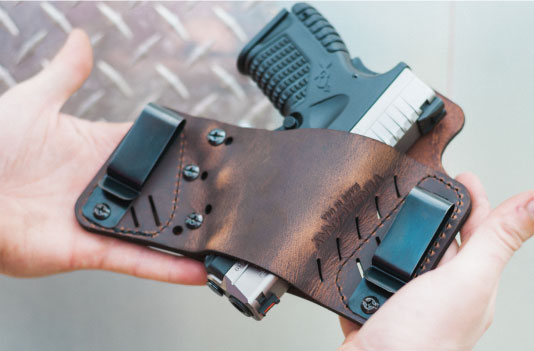 ---
SEASONAL CARRY
How you carry your handgun is very much so dictated on the time of year and weather. This used to result in having to own more than one holster, well not anymore. Our unique design allows for you to remove or add the metal clips at the front of the holster, switching between inside (IWB), or outside (OWB) the waistband carry.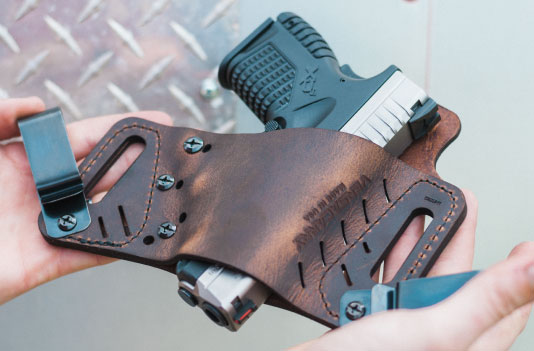 ---
ADJUSTABLE TENSION
Before and after using your leather holster there may be too much or too little tension. To overcome these issues, we have included a screw located at the top of the holster that can be used to either tighten or loosen the tension.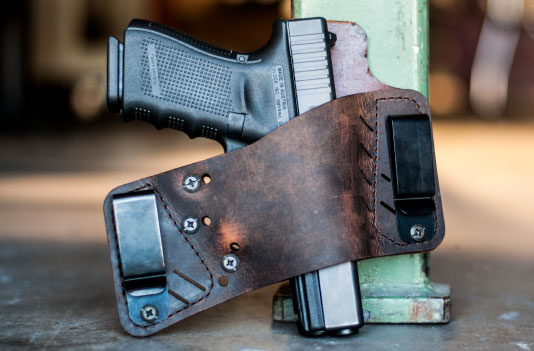 ---
ADJUST TO FIT MOST HANDGUNS
Most holster companies make their holsters so that they require you to have a different holster for each gun model, but not us. We have engineered our S3 design to do exactly the opposite. With the three screws pictured easily adjust them to fit almost any handgun available on the market.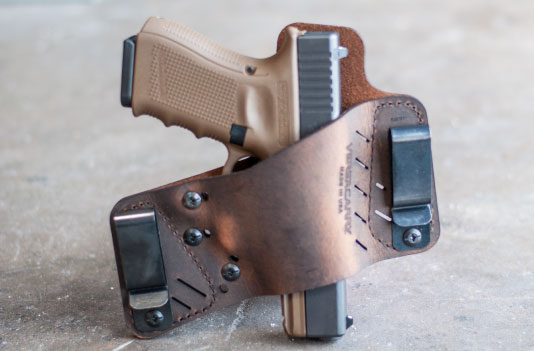 The Double Ply Belt is 1.5" wide and perfect for carrying a handgun. It is designed to be sturdy and rigid, creating the ideal foundation needed. Each is handcrafted in the USA using Premium Water Buffalo leather and is available in sizes from 30" to 44". The Double Ply Belt features include:
---
DOUBLE PLY LEATHER
Designed to be used to carry a handgun, our Double Ply Leather Belt is exceptionally sturdy and ridged to do just that, yet elegant enough to be worn as a dress belt.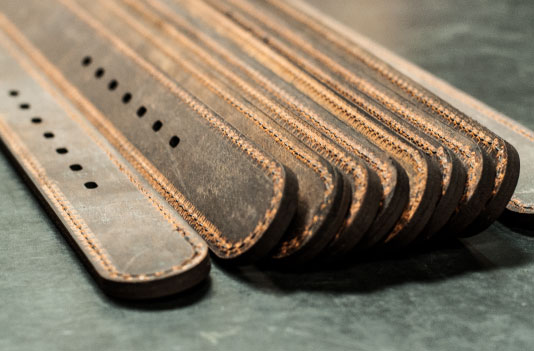 ---
HEAVY DUTY NYLON THREAD
We believe in creating leather products that will last for years. That's why any leather product we make uses Nylon thread.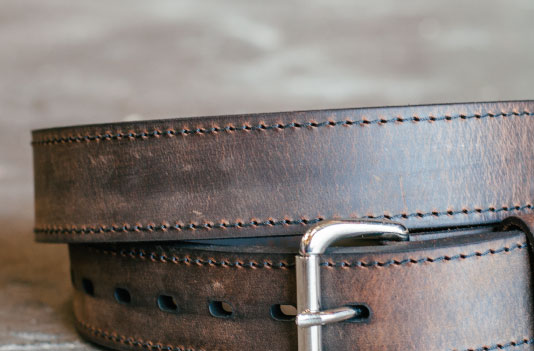 ---
(7) ADJUSTMENT HOLES
(7) adjustment holes have been incorporated into this belt. Each hole is (1) inch apart from the next, allowing the user to make easy adjustments to their desired fit. From the end of the belt (buckle side) to the center hole marks the size of the belt. That means that the user has (3) inches of adjustment both in and out.

---
REMOVEABLE BELT BUCKLE
Although the buckles that we include on our belts are very nice and of high quality, you may be wanting to add your personal touch to your new belt. That is why we have designed this belt with metal snaps so that you can change this our easily.
---
NICKEL SNAPS & BELT BUCKLE
We use Nickel plated snaps and buckles because not only are they appealing to the eye but they are also non-corrosive and irritating to the skin.

HOW TO SIZE:
Each belt is sized base on the actual length from the end of the belt to the center hole. The best way to choose the correct size belt is to measure your waist. Using a piece of string wrapped around your waistline and then measuring the length of the string, is a surefire way to get it right the first time. Do not rely on just your pant size as these measurements can vary from manufacturer to manufacturer.
Important Side Note: Measuring to the center hole allows the user 3" of extra adjust-ability. in and out.
Warning, your pant size is not an accurate representation of the size

belt

you need.
Warranty & Returns
Warranty
All Versacarry® products come with a Limited Lifetime Warranty. If you have a warranty related issue please contact us support@versacarry.com.
Returns
All products may be returned within 30 Days of Purchase. Shipping costs must be covered by the purchaser. All refunds will be issued within two business days of receiving the returned product less any shipping costs.
We reserve the right to void our Return/Exchange Polices if the product has been damaged and cannot be resold. Anyone wishing to make a Return/Exchange must first send a picture to verify that it's acceptable to be received back. If an order is sent back without authorization that is damaged you will be responsible for the shipping charges to receive the item(s) back.