Compound Series Holster - OWB - Leather/Kydex Hybrid - Distressed Brown
SKU:

Compound-OWB-Holster

How to Select Your Holster Size:

The first dropdown is a "Sizing Guide" that has a list of make and models, and the holster size listed next to it in parenthesis. The second dropdown is to select the size that was listed next to your make and model in parenthesis.

Need a Left Hand Holster?:

Go to: Products > Holsters > Select IWB, OWB or Dual Carry > Select Left Hand

Need a P365 Holster?:

Go to: Products > Select the P365 Holsters Banner

Still Need Help?:

Email us at support@versacarry.com or call (979) 778-2000, Monday-Friday, 9am to 5pm CST.
Description
The Compound (OWB) is a true hybrid holster and is unique on the market due to fact the holster is constructed so that Kydex is not in contact with the firearm. An infused layer of Kydex is sewn in between layers of water buffalo leather. Each holster is handcrafted in the USA and is available for right and left-handed users. The Compound (OWB) features include:
---
EMBEDDED KYDEX SPINE
Unlike the other hybrid holsters on the market, we have taken ours one step further. Our Kydex has been sewn between the leather so that it does not come in contact with your handgun, yet while still giving all of the high rigidity that a Kydex holster can offer.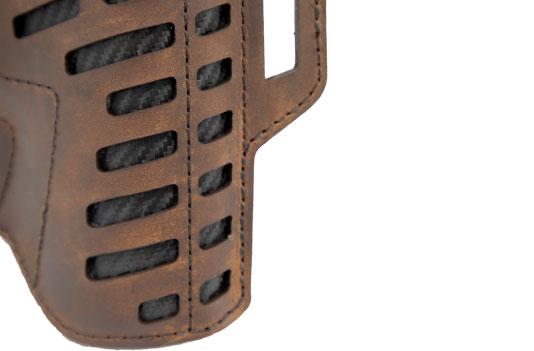 ---
NON-COLLAPSIBLE
Engineered with Kydex inlaid in-between leather layers to be not only non-collapsible, but more rigid. This added layer will never come in contact with your gun.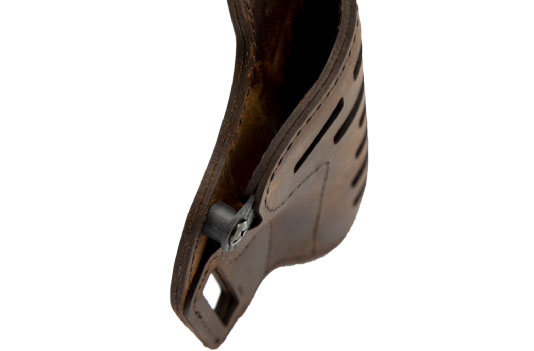 SIGHT TRACK
From the Kydex embedded into the leather, we have left a recessed portion that will keep your front sight from snagging while you draw.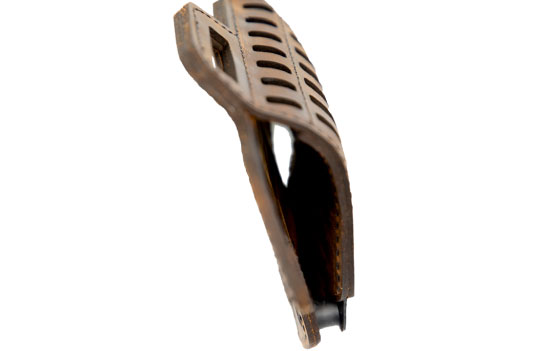 ---
FORWARD CANT
Designed with efficiency in mind, we have included a forward cant into this holster. This cant not only will help conceal your gun, but it will also improve your draw speed.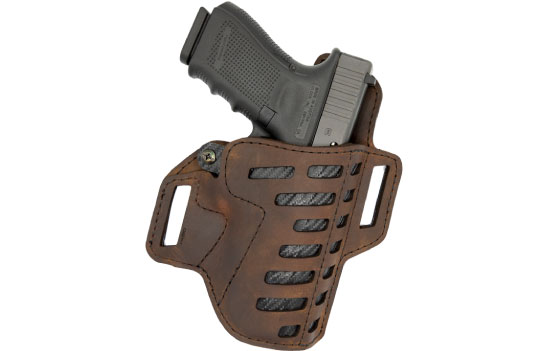 ---
DOUBLE-PLY BACKING
Holsters with multiple layered backings serve numerous purposes which include extra comfort, more prolonged use, and better support for your handgun. It is vital that if you are going to carry that you not only have a holster that is comfortable but one that you can trust to contain your handgun securely.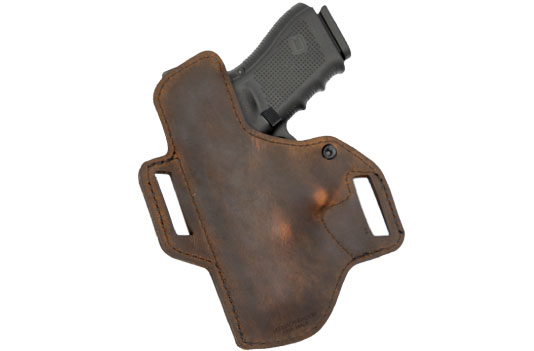 Click Here to read an article on the Compound Holster by Ammoland.com
Click Here to read an article on the Compound Holster by Theoutdoorwire.com
Click Here to read an article on the Compound Holster by Thetacticalwire.com
Click Here to read an article on the Compound Holster by Thedealerwire.com
Warranty & Returns
Warranty
All Versacarry® products come with a Limited Lifetime Warranty. If you have a warranty related issue please contact us support@versacarry.com.
Returns
All products may be returned within 30 Days of Purchase. Shipping costs must be covered by the purchaser. All refunds will be issued within two business days of receiving the returned product less any shipping costs.
We reserve the right to void our Return/Exchange Polices if the product has been damaged and cannot be resold. Anyone wishing to make a Return/Exchange must first send a picture to verify that it's acceptable to be received back. If an order is sent back without authorization that is damaged you will be responsible for the shipping charges to receive the item(s) back.